ISIS
A Top ISIS Leader Killed in Airstrike, Pentagon Says. Yet another "great loss." We're playing the world's tiniest violin.
---
Explosions rock Brussels airport, subway; 26 reported dead. This is what happens when you let 'refugees' enter your country by the 10's of thousands and you have no clue which ones are ISIS members. We hear anywhere from 20 to 30 dead and about 180 injured.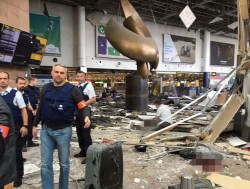 ---
Hard right stuns with huge election gains in Frankfurt. This is caused by Merkel flying in the face of common sense and pissing off the natives by bringing in 10's of thousands of Muslim refugees, many who aren't very nice. Perhaps the Germans should start practicing their seig heil salute.
The anti-immigration Alternative for Germany (AfD) stole huge amounts of votes off the established political parties in elections in central Germany, while a small neo-Nazi party won 17 percent in one district.
---
Republicans Prefer Blunt Talk About Islamic Extremism, Democrats Favor Caution. Based upon Pew's surveys, Republicans appear to be like their chosen mascot, the bull elephant. We suggest the Democrats switch from the donkey to the ostrich.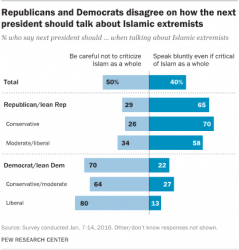 ---